Front entry doors are the first thing visitors see when they enter your home, so why not make yours stand out? Make a good first impression with a front entry door from Wellington Windows and Doors.
Types of Front Entry Doors
Wellington proudly partners with Palma Door Systems to provide customized doors that improve your curb appeal. Most of the doors we offer are either fiberglass or steel, with each material providing unique benefits. We can help you decide which option is ideal for your home.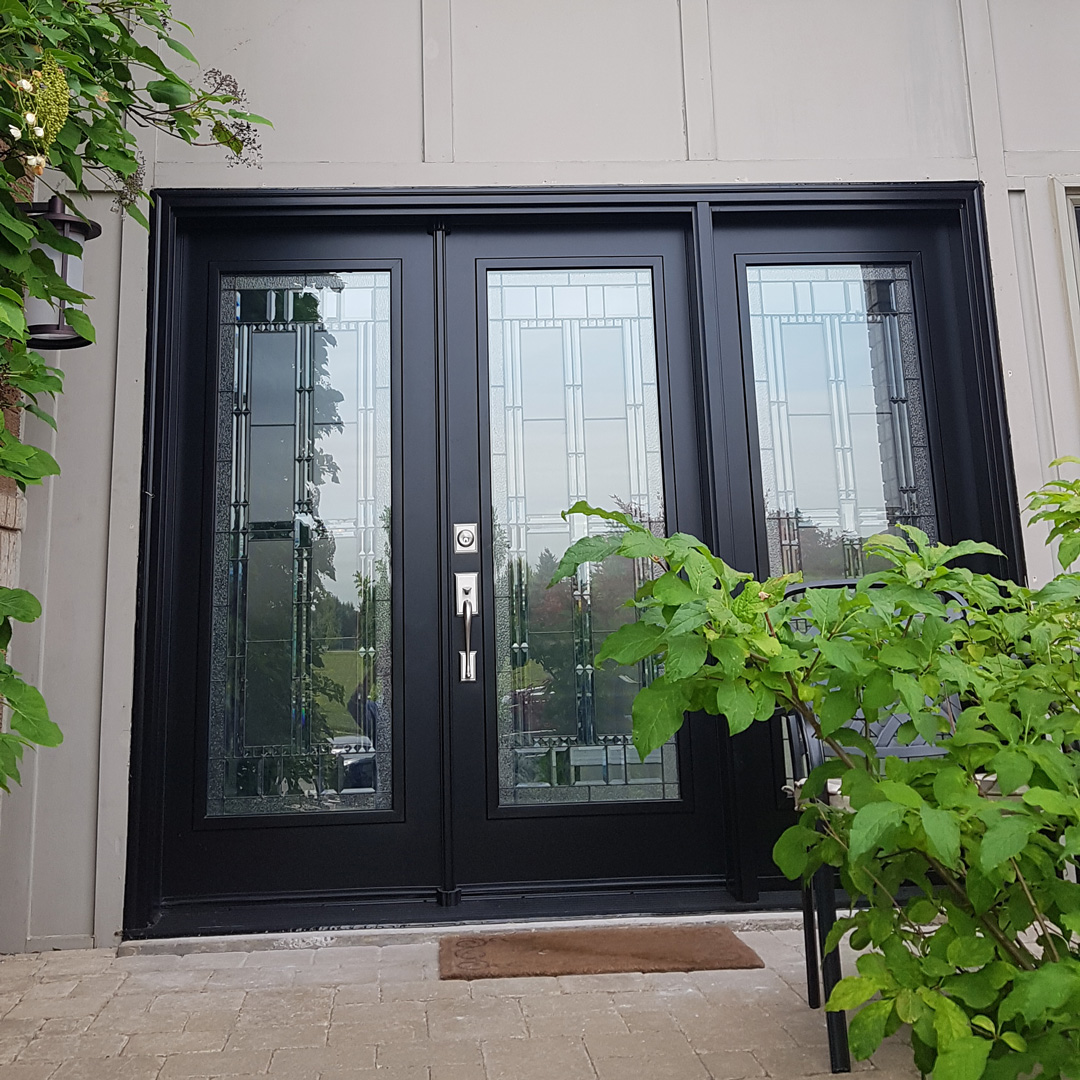 Fiberglass Front Entry Doors
Fiberglass entry doors are renowned for their longevity and versatility. They come in a wide array of styles and colours, making them easy to personalize for your home. And because they contract and expand slightly as the temperature changes, they are extremely energy efficient and help keep climate-controlled air inside your home.
Steel Front Entry Doors
The main benefit of steel entry doors is security. While they lack some of the personalization of a fiberglass door, they are extremely secure, which is important if you want peace of mind. Steel entry doors are also far more efficient than a typical wooden door, providing you extra cost savings on your utility bills.
What to look for in a Front Entry Door
Once you select the type of front door you want, you'll need to start thinking about the door glass and the door style.
Door Glass
One of the main considerations when choosing a front entry door is the inclusion of door glass panels. These can provide better visibility when answering the door and let in a soft infusion of natural light to brighten your entryway.
Textured glass provides additional light, while adding visual interest. The panels can also be cloudy enough to prevent lurkers from seeing inside your home. Clear glass adds a more traditional feel, and it can look great if you have side panels or a transom.
There are many ways to position door glass. You might want a large centre panel in the middle of the door, a smaller panel in the upper third of the door, or even rows of panels going down the door.
Style & Design
The style of door you prefer is an important choice. It comes down to personal preference. All of the styles listed below offer excellent functionality and protection:
Classic/traditional: typically feature two to 12 raised panels along with glass inserts or coloured panes

Shaker: includes one or more flat panels in the centre with little to no detailing

Craftsman: Shaker-inspired with straight lines, one window at the top, and two or three raised panels along the bottom

Contemporary: uses horizontal lines and often rows of glass panels for a clean look
Let Wellington install your new Front Entry Door
If you live in the Halton Region or surrounding areas and need a new Front Entry Door, contact Wellington Windows and Doors today. We provide a wide range of door styles that will surely meet your needs for your beautiful home.